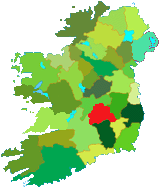 County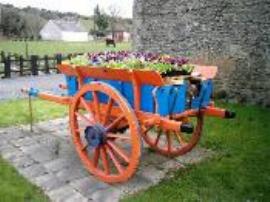 Laois from Samuel Lewis' Topographical Directory of Ireland 1837
County Laois sometimes spelt Laoighis or Leix. It is pronounced leash as in dogs leash. With an area of 1719 km² (664 square miles) it is one of the smaller counties situated almost in the centre of Ireland in the Provence of Leinster, the main town and centre of commerce is Port Laoise.
It is surrounded by five counties Kilkenny to the south Tipperary to the west Offaly to the north Kildare to the east and Carlow to the Southeast. It is the only county in Ireland that shares a border with counties that are themselves inland counties. After the Tudor plantation under Queen Mary the county was renamed Queens county.
The Slieve Bloom mountains which are formed of red sandstone, slate and shale are located along the border with Offaly. Its highest peak, Arderin, rises to 528 metres (1732 Ft) above sea level.
The river Barrow rises here and flows along the eastern boundary of the county.The remainder of the county is mainly undulating lowlands underlain by limestone. In areas which are not well drained there are extensive peat bogs.
The Bog of Allen which has an area of about 970 square kilometers lies in the central plain of Ireland. It stretches from county Kildare through parts of Laois, Offaly, and Westmeath. In 1950 Ireland's first peat burning electricity generating station opened at Portarlington to take advantage of this abundant cheap local energy source.
The railway from Dublin to Cork and Limerick passes through Laois, with branches from Portarlington to Athlone and from Ballybrophy to Nenagh. From Port Laois the N8 road to Cork joins the N7 from Dublin to Limerick. Portlaoise also lies on the N80 road from Athlone to Wexford
About a quarter of the population of Laois work in agriculture. Most of the land that is not peat bog or upland is utilised for farming. About 20% of it grows crops such as barley, potatoes, sugar beet, turnips, and wheat. The remainder is grassland and is used mainly for beef cattle There is also dairy farming and pig production, and sheep are raised mainly on the upland areas.
The service sector employs the largest percentage of the population, with nearly 50% being employed in retail and wholesale distribution, catering, education, health, public administration, and transport. About 16% work in manufacturing such as food processing and general engineering.
Laois and Offaly send five Td's to the Dail Eireann, A county council, based in Port Laois, is in charge of local government. The Republic of Ireland's top security prison is also located there.
Read about County Laois from Samuel Lewis' Topographical Directory of Ireland 1837
Laois County Council
James Fintan Lalor Avenue
Portlaoise
Co. Laois.
Tel + 353 (0) 502 64132
Fax: 00353 502 21178
E Mail
Web Site

Laois Tourism Officer