The Royal Canal sometimes called 'the shoemaker's Canal' runs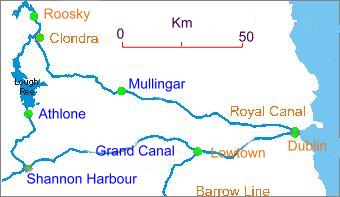 from Dublin to Tarmonbarry on the Upper River Shannon, there are forty six locks on the 90 miles (145 km) journey as the canal wends its way through the beautiful countryside of Counties Longford, Westmeath, Meath, Kildare and Dublin.
The blue text in the map on the right are links.
The Royal Canal takes a more northerly route to the Shannon than the Grand Canal, many consider it to be more scenic, near Leixlip a massive aqueduct takes the canal across the river Rye, the canal passes the great estates of Carton and Castletown, and passes through the town of Maynooth, it is an interesting to note that Maynooth College pays an annual towpath levy of forty six pence to the state, this charge was fixed in 1799.
Regrettably the canal was not a commercial success, its last cargoes were carried in 1951. Built fourteen years later than the better known Grand Canal it is said to have cost £15,000 per mile, more than twice that of the Grand Canal, when the construction gangs reached a point just west of Mullingar the funds ran out and and the person who devised the scheme was bankrupted along with some other investors. The government stepped in and financed the rest of the work to connect it with the Shannon.
Waterways Ireland
20 Darling Street
Enniskillen
Co Fermanagh
BT74 7EW
Tel +44 (0)28 6632 3004
Fax +44 (0)28 6634 6237
E Mail
Web Site

In 1845 the canal was sold to the Midland and Great Western Railway Company which used the land along the canal banks for their railway from Dublin to the west. The railways here as in England sounded the death knell of the canals. Even though it was 1961 before the canal was finally officially closed for traffic, boats had long since ceased to use the route.

See our listings for Canal Boat Hire.