(1563 - 3rd April 1606)
Charles Blount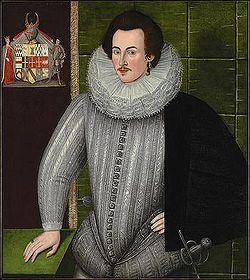 was an English nobleman who served as Lord Deputy of Ireland under Queen Elizabeth I and after her death on 22nd March 1603, as Lord Lieutenant under James I. Charles social position and youthful good looks he soon found favour at the court of Elizabeth I, this led him into conflict with Robert Devereux, 2nd Earl of Essex,
to the extent that the two men fought a duel obviously both survived as afterwards they became friends.
Between 1586 and 1598 Charles spent a lot of time on the continent, serving in the Netherlands and in Brittany. He joined Essex and Sir Walter Raleigh in their expedition to the Azores in 1597, along with his distant cousin, Sir Christopher Blount (1565–1601). (Sir Christopher had married Essex's mother, Lettice Knollys, the Countess of Essex, and he was afterwards executed for complicity in Essex's treason.