County Cork situated on the south west corner of Ireland enjoys a mild if somewhat wet climate, enabling it to support many plants of Mediterranean origin. It is bounded on the west by Co Kerry to the north by counties Limerick and Tipperary and to the east by Co Waterford.
Cork has a long and in places deeply indented coastline there are many picturesque small ports and harbour's such as Cobh, Crosshaven and Kinsale where it is possible to hire a boat to take advantage of the excellent inshore and deepwater fishing.
A native of Cork Francis O'Neill, immigrated to America, where he joined the Chicago police rising to the rank of Captain, O'Neill had a great love of Irish music, realising that much of it was held only in the oral tradition and would eventually be lost, he collected tunes and words from the many immigrants in and passing through Chicago, compiling them into 'O'Neills Anthology of a Thousand Irish Tunes' which is a valuable reference source much used today.
Gouganebarra Lake
This lake is the source of the river Lee,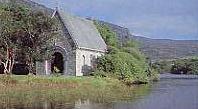 it sits in a glacial valley and is renowned for its beauty and tranquility. The name means St Finbarr's Cleft. In the 6th or 7th century St Finbarr who is the patron saint of Cork, set up a hermitage on an island in the lake. He later moved down river and built a monastery at Cork. Nothing remains of the original hermitage. There are ruins on the island but they were built by Father Denis Mahoney in the 18th century.
Close to the island is Gouganebarra Forest Park it extends to 1000 acres and is ideal for picnics or walks. This was the first forest park to be set up in Ireland.
Tourist Information
Aras Failte
Grand Parade
Cork
Co Cork
Tel +353 (0)21 425 5100
E Mail
Web Site

A bronze sculpture of him has been erected in his birthplace, Tralibane, near Bantry.

More about Captain Francis O'Neill.