County Dublin from Samuel Lewis' Topographical Directory of Ireland 1837
The name Dublin comes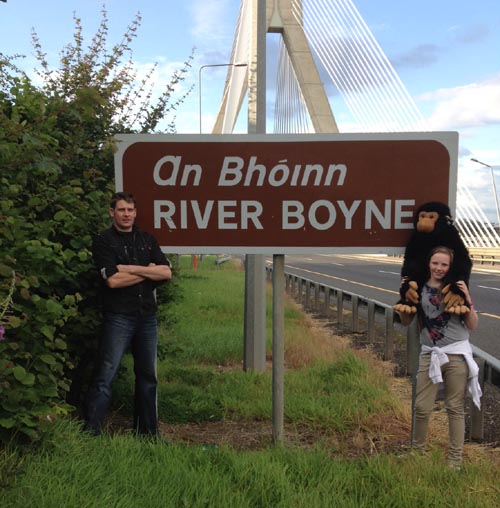 from Dubh linn 'Black pool' The original Celtic name is Baile Ätha Cliath 'town of the hurdles' Dublin is said to have been founded when the Vikings first over wintered there in 840 although the swampy site is said to have been inhabited from much earlier times by the Blanii or Eblani.
By the 10th century Dublin had grown to be the largest Viking settlement in Ireland, it may have been used to export slaves captured in Ireland to Scandinavia Control of Dublin remained in Norse hands until 1014 when they were ousted by Brian Boru, at the Battle of Clontarf, after that the Irish held sway for little more than 150 years.
Tribal infighting led ultimately to the country being invaded by the Anglo Normans in 1170. Dermot MacMurrough, the deposed king of Leinster, in a naive attempt to regain his kingship invited the Norman Earl of Pembroke, known as Strongbow, to assist him. MacMurrough offered Strongbow his daughter Aoife and succession to his kingship, the following year MacMurrough died and Strongbow assumed the kingship of Leinster.
This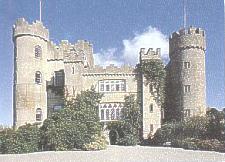 marked the beginning of a period of Anglo Norman domination which was to last for about 750 years. Initially their control was confined to an area around Dublin known as the pale, the rather fluid borders of which are marked today with the ruins of military outposts, tower houses, and fortified manors.
In the intervening centuries the town has grown into a modern sprawling cosmopolitan city to rival any in Europe, in recent years (2005) the city has experienced a period of phenomenal growth fueled by the aptly named 'Celtic Tiger Economy' the skyline is dominated by modern buildings and a forest of tower cranes busily engaged in constructing more. Not that the tourist is search of peace and tranquility should be dismayed,
you just need travel about twenty kilometers from the center in any direction (except east) and you will find serenity, seclusion and some of the beautiful scenery which has made Ireland famous.
The county of Dublin is enclosed by the counties of Meath and Kildare to the west, Wicklow to the south and the Irish sea to the east. The county possesses an excellent transport system with motorways radiating in all directions, visiting motorists should note that some of these collect tolls, so be sure to have a few euros to hand, and try to avoid driving through the city during the morning and evening rush hours.
There is much to be seen in and around the city, the treasures of Ireland's past are gathered in the museums, and art galleries, tourist attractions abound, accommodation from b & b to five star luxury hotels can easily be found.
Tourist Information
Dublin City
Co Dublin
Tel +353 (0)1850 230 330
E Mail
Web Site

Read about County Dublin from Samuel Lewis' Topographical Directory of Ireland puplished in 1837.