County Monaghan has an area of 1,291 sq. Km, its name comes from the Irish Muineachan (a place of bushes or little hills). It is one of the three counties in the province of Ulster that are not part of Northern Ireland. For more than half of its length, Monaghan's boundary is the border with Northern Ireland. Fermanagh is to the west, Tyrone to the north, and Armagh to the east. In the Republic of Ireland, Louth is to the southeast, Meath to the south, and Cavan to the southwest.

Most of the land is farmed with about three per cent cultivated, the remainder is used for beef and milk production. Poultry rearing is an important part of the economy. About 25% of the population work in agriculture. Scattered villages and small towns lie in a pastoral landscape. The largest towns are Monaghan, Castleblayney, Clones, Ballybay and Carrickmacross the latter is renowned for its production of fine lace. One of Irelands foremost poets Patrick Kavanagh was born at Mucker near Inniskeen County Monaghan.
Monaghan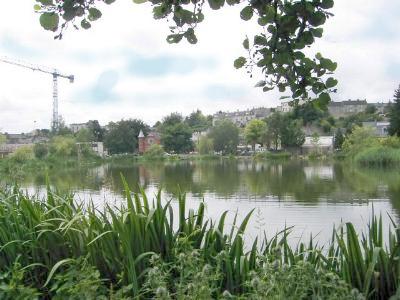 is primarily a pastoral county where the pace of life is perhaps a little more relaxed than other more industrialized counties, it is an ideal destination for a relaxing weekend break or holiday, the county has many fine hotel and guest houses catering for all budgets. If equestrian activities are your forte, Monaghan has several excellent Center's. The fisherman is also well catered for.
The lowest land is on a band of limestone from Clones to Monaghan. To the northwest, the land surface rises to 300 metres (984 Ft) in the Slieve Beagh plateau. To the southeast, the rise is gentler, and much of the county is lowland. The small rounded hills, combined with lakes or bogs, are distinctive features of Monaghan's landscape.
About 25 per cent of of the population are
employed in manufacturing, food processing is the largest sector of industry, and includes the processing of meat, milk, and mushrooms. Some engineering industries are also related to farming, and supply agricultural equipment. The manufacture of furniture and wood products is also carried on. Monaghan town is the largest centre of manufacturing, followed by Carrickmacross, which is famous for its lace. Monaghan together with its neighboring county Cavan form one constituency, and send five members of parliament to Dail Eireann. Monaghan lost more than 25% of its population during the Great Famine of the 1840's.
The Dawson Monument stands by the roadside between the towns of xxxxxxxxxx and xxxxxxx, it bears the inscription below
This column was erected
By the FREE and INDEPENDENT ELECTOR'S
of the COUNTY of MONAGHAN
to PERPETUATE the MEMORY
of RICHARD DAWSON Esq
Who was Unanimously Returned by them
To FIVE successive PARLIAMENTS
HE DIED their Faithful REPRESENTATIVE
on the 3rd September 1807
Aged 44 Years.
Tourist Information
M:TEK Building,
Knockaconny,
Monaghan
Co Monaghan
Tel +353 (0)47 81122
E Mail
Web Site

Summer only.

Read about County Monaghan up to 1837