Sligo is one of the five counties that make up the Provence of Connacht it has a total land mass of 1,796 sq. km. (693 Sq. Miles) The Atlantic Ocean forms Sligo's border to the north and northwest. Counties Leitrim is to the northeast, Roscommon to the southeast and Mayo to the southwest.

The largest towns are Sligo, Tubbercurry, Ballymote and Collooney. The name Sligo comes from the Gaelic Sligeach which means (Shelly place or river). Sligo together with its neighboring county Leitrim elect four Td's to Dail Eireann. The county council is based town is in charge of local government administration.

Sligo has many mountains, in the North a plateau extends across the border with Leitrim. Other major mountains in the county are Ben Bulben, Knoocknarea, Curlew Mountains and the Ox Mountains to the west.

The county has many peat bogs both in the upland areas and also in poorly drained lowland areas. The north and west coasts consist of coastal plains with many fine sandy beaches.
The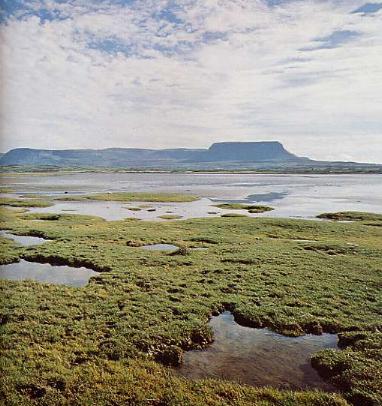 southern lowlands are drained by the river's Moy and Owenmore. The annual rainfall is less than 120 centimeters on the lowland, but much higher on the uplands. The average temperatures are 5 °C in January and 15 °C in July.
Over fifty percent of the population work in the service industries, these include education, health, and transport. Tourism is a substantial contributor to the economy especially in the town's and coastal areas. About one sixth of the population are employed in manufacturing, Sligo town and Tubbercurry being the main Center's. main products include the following in agriculture: cattle, milk, sheep, timber and in m anufacturing building materials, clothing, engineering goods, food products, medical supplies, timber products.
Sligo has good road and rail connections with the rest if the Island, as well as a small port and an airport. The county is known internationally in English literature through the writings of William Butler Yeats He spent much of his time, being inspired by its landscapes and folklore. Northern Sligo is known as Yeats Country and hosts an annual Yeats Summer School, Yeats is buried at Drumcliffe, beneath Ben Bulben.
Tourist Information
North West Tourism
Aras Reddan
Temple Street
Sligo
Tel +353 (0)71 9161201
Fax: +353 (0)71 9160360
E Mail
Web Site

Farming was once an important part of Sligo's economy employing about one fifth of the population, farms are quite small averaging about 15 hectares (37 Acres) making it difficult to make them an economic success. Like its neighbour Leitrim the land is not suited to arable farming, beef and dairy cattle are kept as well as sheep