County Tyrone from Samuel Lewis' Topographical Directory of Ireland 1837

The Moy from Slater's Commercial Directory 1846.

Tyrone is an inland county in the Provence of Ulster Northern Ireland, it takes name from the Irish Tir Eoghain, which means the land of Eoghain. With an area of 3,263 square kilometer's (1,259 Sq miles) it is the largest county in Ulster, it is bounded by County Londonderry to the north, Lough Neagh to the east, County Armagh to the southeast, and the border with County Donegal to the west and County Fermanagh to the south.

The central part of County Tyrone is mainly flat, low-lying bog and moorland these areas are infertile and are used mainly for sheep grazing. In the north, the the highest mountain in the Sperrin range rises to 683 metres (2249 ft) . The valleys of Tyrone are fertile and are drained by the Blackwater and Ballinderry rivers, which flow eastward into Lough Neagh. In the west, the Glenelly, Owenkillew, and Strule rivers combine with the Mourne which flows through the town of Strabane and thence into the Foyle above its wide estuary.
The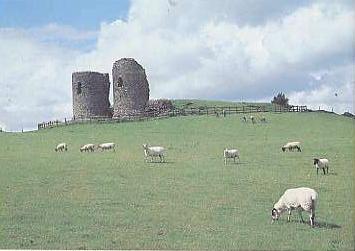 Clogher Valley in south Tyrone is extremely fertile and crosses the best woodland and agricultural land in the county. In the south, the local rock consists mostly of sandstone and limestone.
The town of Coalisland which was originally called Brackaville, takes its name from the coalfields which are no longer worked, the opening of these workings in 1723 by one Francis Seymour, were the instigation of the building of the Newry Canal, built to take the coal to Dublin, this was the first canal to be built in Ireland and indeed in the British Isles. Clay is excavated in the area and used in the local brick making industry. Tyrone is mainly a farming county, it has hundreds of small farms which mainly produce cattle and dairy produce. They also grow oats, barley and potatoes.
The major towns of Tyrone are Omagh, Dungannon, Cookstown and Coalisland. Omagh has a fine courthouse and is the hub for routes passing through the middle of Northern Ireland. Dungannon and Cookstown are situated in the Lough Neagh lowlands. Dungannon was once the major centre for the linen industry in the county which brought significant prosperity to the area.
Clogher is a small cathedral town, the seat of both a Church of Ireland and a Roman Catholic bishop. Other small towns are Stewartstown, Fintona, Strabane, and Aughnacloy. For the angler there is excellent fishing in the rivers.