The ivy clad ruin of Killua castle at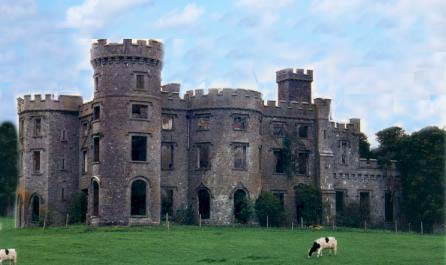 Clonmellon, was once the seat of the Chapman family who originated from Leicestershire in England, they acquired large tracts of land in Ireland through the patronage of their cousin Sir Walter Raleigh. During the Cromwellian Wars Benjamin Chapman became a captain in Cromwell's army and was granted Killua which had been confiscated from the Knights Hospitallers of St. John.
The present house was built in 1780 and converted in the Gothic style around 1830. The large estate which once extended to some 9,000 acres, has many lakes and follies, and an obelisk erected by Sir Thomas Chapman in 1810 commemorating the planting of the first potato in Ireland by Raleigh in 1589.
The last of the family Thomas Chapman (1848 1919) married a member of the Rochford family. she bore him four daughters, the marriage deteriorated and he spent more time in England, where he met and fell in love with a young lady Sarah Dunner. He changed his name to Thomas Lawrence, they had six children one of whom was to become the famous Thomas Edward Lawrence better known as Lawrence of Arabia.
Clonmellon cemetery situated close to the rear entrance to the estate is where the Chapman family graves may be seen. The Chapman family also had a house and land at Southill, on the Athboy road to Delvin, it now belongs to the nursing Sisters of Jesus and Mary."
Lawrence never lived at the castle but did visit it and was inspired by its splendor. The castle is reputed to be haunted by Jacky Dalton the land stewart of Sir Benjamin Chapman in the late eighteenth century. Dalton was described as a small cunning man with weasel eyes, who would sit at the foot of the dinner table and play the bagpipes for the guests, he is reputed to have relieved his master of a considerable amount of money, all of which he squandered on drink, he is reputed to have commited suicide by jumping in the lake.
It appears that Killua Castle is currently (Oct 2009) being renovated, we have no more information than this, if anyone can help were would be grateful.
Read about Killua Castle from Samuel Lewis' Topographical Directory of Ireland 1837.
Killua Castle

Co Westmeath
Tel: +353 (0)
E Mail
Web Site

After Sir Benjamin's death Dalton took to to drink eventually committed suicide by jumping into a lake. His ghost is said to have been seen around the castle.

Read about Killua Castle on Wikipedia.