Donegal has large areas of mountains and infertile land, however the valleys of the Foyle and Finn in the east have fertile soils. Farmers in the east and north grow barley, oats, and potatoes as their main crops. The main type of farming is cattle-rearing, with sheep-rearing in upland areas. Some farmers are involved in dairying and the raising of pigs and poultry. Most farms are less than 30 hectares (74 acres) in size. The larger ones are in the east. The west of the county the holdings are tiny and the land very infertile, making it totally impossible to to make a living from them.
Manufacturing industry are not as important as in previous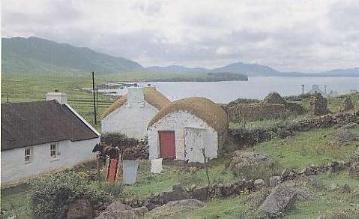 times. The decline of the textile industry in Europe effected Donegal badly where nearly half the people of Donegal worked in the textile and clothing industries, and these have traditionally been the major areas of economic activity. Donegal is famous for handmade tweed and knitwear. Other industries include fish and other food processing.
Nearly half of the people of Donegal work in service industries, including retailing, defense, education, health, public administration, transport and tourism, income from the latter has increased significantly in recent years due in no small way to the efforts of Board Fàilte.