County Mayo from Samuel Lewis' Topographical Directory of Ireland 1837

Mayo with an area of 5,398 sq. Km (2,084 sq Mi)is the third largest county in area in the Republic of Ireland. The name comes from the Irish Maigh-ea (the plain of the yew trees). It's north and west coast's are bounded by the Atlantic and counties Sligo to the north east, Roscommon to the east and Galway to the south east and south. It is situated in the province of Connacht. Ballina is the largest town, but Castlebar is the centre of county administration.

Other large towns are Westport, Claremorris, Ballyhaunis and Ballinrobe. English is the everyday language. But in the west there are three Gaeltacht, areas where Irish is the everyday language. Mayo has the distinction of having Irelands largest island Achill, it is connected to the mainland by a road bridge.

Achill is a mountainous island two of the highest are Slieve More at 672 m (2,205 ft) and Croaghaun at 669 m (2,192 ft). On the west side of the island there are also enormous cliffs rising to 244 m (800 ft)
TheThe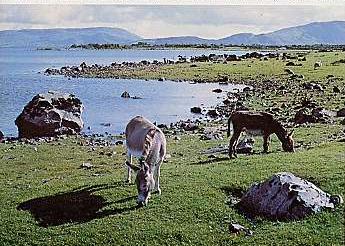 west of the county is scarcely populated it is largely upland with peat bogs and scattered farms. Mweelrea in the Sheefry hills is the highest peak in Connaught, at 817 m (2,680 ft) The coast is deeply indented with many ruggedly beautiful bays sheltered from the Atlantic. The Mweelreo, Sheeffry, and Partry mountains are situated in the south. The principal rivers are the Robe and the Moy.
The town of Knock in east Mayo attracts pilgrims from across Europe and indeed the world, to the church where in 1879 children claimed the Virgin Mary appeared to them. On the last Sunday in July people from across Ireland assemble for a pilgrimage up Croagh Patrick, a mountain where St Patrick spent time in meditation and prayer.
Tourism is an important part of the Mayo economy, especially in the mountainous and coastal areas. The land of Mayo is poor and largely unsuitable for arable use, most of the land is used for grazing with beef cattle, dairy farming and sheep, farms in the area tend to be small making it difficult for them to be efficient. About 30% of the people work in agriculture.
re are some manufacturing industries mainly in Ballina and Castlebar, producing clothing and textiles, with a few company's producing light engineering goods. About 16% of the population work in these industries. There is a large synthetic textile factory at Killala. The service sector account for over 40% of employment, particularly retail and wholesale distribution. Other service industries include catering, education, health, and transport. Some of the upland areas are given over to forestry. Fishing is important in the coastal areas.
Some of the county's power requirement is met by a peat powered station at Bellacorick in the northwest. Mayo has two constituencies and sends six Td's to Dail Eireann. The administrative center of the county is at Castlebar.
The county has a good road system with the N5 from Castlebar toward Dublin and the N17 between Sligo and Mayo. A railway from Dublin through Claremorris branches to serve both Westport and Ballina. Horan International Airport, near Knock, opened in 1986.
Tourist Information
Westport
Co Mayo
Tel +353 (0)98 25711
E Mail
Web Site

Dialing from NI replace 098 with 048

Read about County Mayo in 1837 from Samuel Lewis' Topographical directory of Ireland.